​Learning to play the Tavalimba is as easy as child's play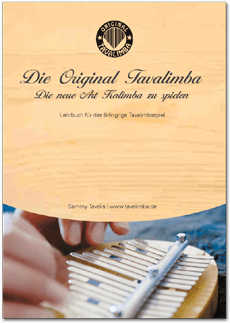 Along with your Tavalimba, you will receive an instruction book with exercises for your fingers, directions for learning the notes, and practical tips for playing the instrument, as well as sheet music for the pieces listed below, which can also be heard and seen on the video page.
Purchasing a Tavalimba also gives you access to all the instruction videos on the website, including ones for tuning the instrument, the exercises, and all music pieces played both slowly and at a normal tempo.
The instruction manual is arranged in order of difficulty. You begin with simple melodies, learning chords and developing a feel for the instrument.
The 16 notes of the Tavalimba are easily learned, even for someone who has never played by notes before. As an aid, there is a strip of notes showing which lamella corresponds to which note (see diagram).
The printed music book is in German. An English digital version of it is available for download once you purchase your Tavalimba.

For the Tavalimba Chrom there is a chord table for download with all common chords in major and minor, major 7, minor 7 and Mj7.
Extract from the instructions
​Along with the exercises, the instruction manual contains sheet music for the following songs:
Guten Abend, gute Nacht – Johannes Brahms
Danny Boy – Music Frederick Edward Weatherley
Waltzing Matilda – Music: James Barr
Theme from "Jesu joy of men's desiring"- Music: Johann Sebastian Bach
Lili Marleen – Music: Norbert Schultze
Walzer Nr. 1 – Music: Sammy Tavalis
Rag and time – Music: Sammy Tavalis
Harp – Music: Sammy Tavalis
Opus 4 – Music: Sammy Tavalis
Rolling fingers – Music: Sammy Tavalis
Bossalimba – Music: Sammy Tavalis
On Youtube a whole bunch of other videos can be found.
Sheet music to the pieces that are not included in the instructional book, can be obtained on request.
Please get in touch with me regarding this.