A new experience with a kalimba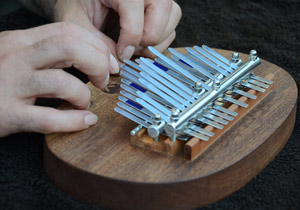 I'd even go so far as to claim that, among polyphonic instruments, the Tavalimba is one of the easiest to learn. First successes come quickly, and the fun is there from the very first note. The instrument has a warm, pleasant sound and is easy to play. It's suitable for people with no previous musical experience, however it is not for children younger than 12 years old. The Tavalimba doesn't need to be tuned, but if it should ever go out of tune, the instruction book provides tips on how you can do retune it using a simple tuner. It's a quiet instrument that will annoy neither neighbors nor family members. But if you'd like to make it louder, the e-Tavalimba, with an integrated pickup, can be plugged into an amplifier.
How a tavalimba is made
Each Tavalimba is carefully hand crafted in a German workshop. Since the individual elements are all cut, filed, sanded, and polished by hand, no two Tavalimbas are the same.